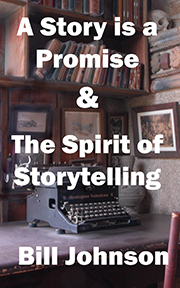 A fifth edition of my writing workbook, A Story is a Promise & The Spirit of Storytelling, is now available for $2.99 from Amazon Kindle.

This edition offers new, unique tools for creating vibrant story characters, how to outline a novel, and a guide to writing a novel, screenplay, or play, how to evaluate a manuscript, review a screenplay, and tools to revise a novel; and my new essay, Storytelling and the Superconscious Mind.
Writer's Survey
When I first started reading manuscripts, I came across particular character issues time after time: main characters who are stuck, emotionally numb, unable to express intimate feelings, or too conflicted or wounded to act.
I came to recognize these character personas are an extension of the storyteller's feelings and mind set. A storyteller who feels 'stuck' in life creates a main character who mirrors that. Emotionally numb authors create emotionally numb main characters. Writers with issues around intimacy create characters unable to express or feel love. Wounded writers create wounded heroic characters who can only react, not act. I call this personal storytelling.
To help writers recognize when characters are being created for an internal story promise, I've created a number of creative personality types and how they affect writing choices. When writers read the personality types, I ask them to identify which types they see reflected in themselves.
I then read ten manuscript pages to explore how the writer's personality affected their choices in storytelling.
My notes on the ten pages will review how I perceive that a writer's personality affected their choice of characters and the kinds of words they use to tell a story, and offer notes on the pages using my A Story is a Promise concepts.
This is ten pages of the beginning of a story, in 12 point font, double-spaced.
Contact me at bjscript@teleport.com if you are interested.
Must be a U.S. resident and have mastered basic writing skills.
After a writer has gone through this process, I'll ask that they practice one more technique and write a 200-500 word piece of fiction. Selected entries will appear on a blog with the author's name.
Top of page